Room for all the family.
This 2017 model StarCraft has everything you need for a great family holiday. There's a double bed at the front, with 3 bunks at the rear.
Features include full ensuite with separate shower and toilet, modern kitchen with euro appliances, large fridge with separate freezer door, air conditioning, leather seats in the dining area, TV / DVD, Radio with outdoor speakers, washing machine, and a bike rack.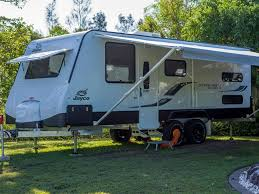 Body Length 19'11"
Double bed X1
Bunks X3
ATM 2,750 Kg
Towball weight 164 kg.
Off Peak Rates
$150 / Night – 5 Nights (Minimum Hire)
$890 / Week
Discounts apply to hires > 3 weeks – Off Peak only
Peak Rates
(School Holidays excluding Xmas)
$142 / Night – 7 Nights (Minimum Hire)
Hires Must be in full week blocks.
Fri – Fri or Sat – Sat
Xmas Rates
(21st December to 31st January)
$165 / Night – 7 Nights (Minimum Hire)
Hires Must be in full week blocks.
Fri – Fri or Sat – Sat
2017 Model 20'5″
Separate shower and toilet
R/C Air conditioning
Leather Trim
Fusion Bluetooth Stereo
Washing Machine
TV with built in DVD Player
Gas (+ 1 electric) hotplates
Portable outdoor BBQ
3 Way fridge (12V, 240V, gas)
Bike Rack (2 bikes)
Cooking and Cutlery
Dinner set for 6
Cutlery set for 6
Wine glasses
Salad bowl and servers
Nibble bowls
Drink tumblers
Coffee cups
Cooking utensils
Chopping board
Saucepans
Frypan
Electric Kettle
Electric toaster
Tray
Waiters friend
Can opener
Whisk
Vegetable peeler
Handheld grater
Colander
Tongs
Outdoor
Breathable floor matting
Outdoor camp chairs
Outdoor children chairs (upon request)
Outdoor table
Portable BBQ
BBQ Utensils
Safety
Fire extinguisher
Fire Blanket
Small First Aid kit
Basic tool kit
General Equipment
Doona and Pillows
Mattress protector
Tea towels
Sponges
Scourer
Garbage bags
Detergent
Spray & wipe
Disposable gloves
Get in touch
For more information or to book one of our caravans for your next holiday, please contact Mick.
0413455161